A+ is the starting point for a career in IT. The performance-based exams certify foundational IT skills across a variety of devices and operating systems.
CompTIA A+ certified professionals are proven problem solvers. They support today's core technologies from security to cloud to data management and more. CompTIA A+ is the industry standard for launching IT careers into today's digital world. 
CompTIA A+ 220-1001 covers mobile devices, networking technology, hardware, virtualization and cloud computing and network troubleshooting.
CompTIA A+ 220-1002 covers installing and configuring operating systems, expanded security, software troubleshooting and operational procedures.
CompTIA A+ 220-1001 (Core 1) & 220-1002 (Core 2)
9 skills that you master and validate with CompTIA A+
HARDWARE
Identifying, using, and connecting hardware components and devices
OPERATING SYSTEMS
Install and support Windows OS including command line & client support. Understand Mac OS, Linux and mobile OS
SOFTWARE TROUBLESHOOTING
Troubleshoot PC and mobile device issues including application security support
NETWORKING
Explain types of networks and connections including TCP/IP, WIFI and SOHO
HARDWARE & NETWORK TROUBLESHOOTING
Troubleshoot device and network issues

SECURITY
Identify and protect against security vulnerabilities for devices and their network connections
MOBILE DEVICES
Install & configure laptops and other mobile devices
VIRTUALIZATION & CLOUD COMPUTING
Compare & contrast cloud computing concepts &set up client-side virtualization
OPERATIONAL PROCEDURES
Follow best practices for safety, environmental impacts, and communication and professionalism 
CompTIA Network+ helps develop a career in IT infrastructure covering troubleshooting, configuring, and managing networks.
CompTIA  Network+ N10-007 covers Design and implement functional networks, Configure, manage, and maintain essential network devices, make use devices such as switches and routers to segment network traffic and create resilient networks,  Implement network security, standards, Troubleshoot network problems and protocols & Support the creation of virtualized networks.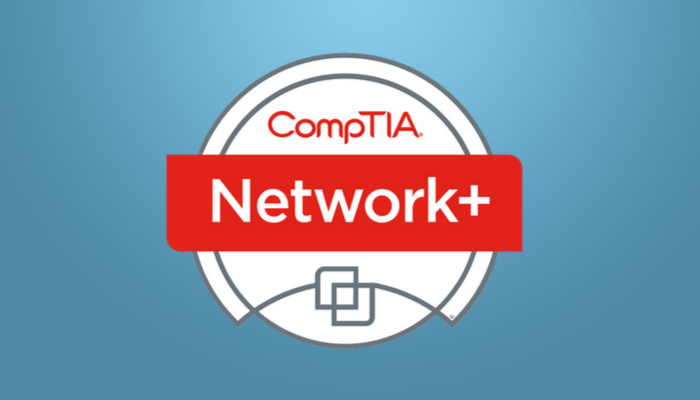 Network+ certifies the essential skills needed to confidently design, configure, manage and troubleshoot any wired and wireless devices.
6 skills that you maestro and certify with CompTIA Network+
NETWORKING CONCEPTS
Explain the purpose of a variety of networking concepts and implement them appropriately
INFRASTRUCTURE
Determine & explain the appropriate cabling, device and storage technologies
NETWORK OPERATIONS
Use best practices to manage the network, determine policies & ensure business continuity

NETWORK SECURITY
Summarize physical security & common attacks while securing the wired and wireless network
NETWORK TROUBLESHOOTING
Explain the network troubleshooting methodology & appropriate tools to support connectivity & performance
NETWORK TOOLS
Insights on Tools & Software to ensure network is continuously tracked and monitored at all times of the day to ensure the highest up-times possible.
Security+ provides a global benchmark for best practices in IT network and operational security, one of the fastest-growing fields in IT.
CompTIA Security+ is a global certification that validates the baseline skills you need to perform core security functions and pursue an IT security career.
CompTIA  Security+ SY0-601 is the first security certification IT professionals should earn. It establishes the core knowledge required of any cybersecurity role and provides a springboard to intermediate-level cybersecurity jobs. Security+ incorporates best practices in hands-on trouble-shooting to ensure security professionals have practical security problem-solving skills. Cybersecurity professionals with Security+ know how to address security incidents – not just identify them.
CompTIA Security+ SY0-601
6 skills that validates the security functions and pursue an IT security career.
IDENTITY & ACCESS MANAGEMENT
Install and configure identity and access services, as well as management controls
​TECHNOLOGIES & TOOLS
Install, configure, and deploy network components while assessing and troubleshooting issues to support organizational security
ARCHITECTURE & DESIGN
Implement secure network architecture concepts and systems design

CRYPTOGRAPHY & PKI
Install and configure wireless security settings and implement public key infrastructure
​THREATS, ATTACKS & VULNERABILITIES
Install and configure identity and access services, as well as management controls
RISK MANAGEMENT
Implement and summarize risk management best practices and the business impact
You own a business. We have a strategy. Grow your business with us. Follow us for more info.
© Copyright 2021 All rights reserved by EleTechCorp. https://www.eletechcorp.com/